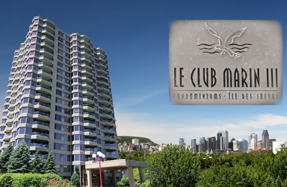 Club Marin III

301 Chemin du Club-Marin, Île-des-Sœurs, Montréal QC H3E 1Z2
In 2001, Proment Corporation was awarded the Domus Builder of the Year Award for the design and development of Club Marin III.
This magnificent 19-storey building, located in one of the most beautiful and peaceful areas of Nun's Island has 112 units with a pleasant view of the river, Mount Royal or downtown. Located on the banks of the river and a few minutes from downtown, the building offers its co-owners a range of services including: indoor and outdoor pools, exercise room, three tennis courts, sauna, pool tables, ping-pong, squash court, reception hall, conference room, guest suite, doorman, wine cellars and tasting room.
Surrounded by walking and cycling trails, the CMIII offers a high-quality living environment. The management of the condominium association is inspired by the following mission, vision and values:
MISSION: offer co-owners an exceptional quality of life and investment.
VISION: Club Marin III: the place of choice on the Island.
VALUES: The members of the Board of Directors adhere to the following values: Respect - Honesty - Transparency – Solidarity